Highly productive abrasive saws designed with more attention to operator safety to reduce the frequency of injury.
Fully enclosed wet or dry abrasive saws, manual or powerhead, from 10" to 26" wheels with 3HP-50HP motors
Designs guided by "best-practice" machinery safety standards including ANSI-B11, the EN Machinery Directive, and ISO13849.
Designed to protect your #OKBoomer replacement workers and your company.
Let's face it, many Boomers may retire and not come back from the Covid Pause. The number of skilled, careful, attentive machinists…or even machine operators…that were interested in, let alone willing to stand in front an open abrasive saw was rapidly declining.
Catalogue tool-room-style saws are designed for use only by trained, careful, skilled, and thoughtful machinists. Please ask yourself if this is the profile of who you have operating your saws today?
Do you have a saw that is appropriate for the operator you are actually using?
Do you really train your people to operate an open saw?
Are you still insisting 'everyone' knows how to safely operate a saw?
SaferCut® saws still have residual risks…we just studied the latest functional safety standards and best practices and implemented design changes to make injury from those risks rarer compared with open tool-room saws. And just in case you have been misled, a door and an interlock in the "ON" circuit does not satisfy any machine safety standard.
Higher purchase prices than catalogue saws? Yep..up-front…but what does a lost-time injury cost you?
Estimated Costs of Occupational Injuries and Illnesses and Estimated Impact on a Company's Profitability Worksheet | Occupational Safety and Health Administration (osha.gov)
While even the "safest" machine has residual risks and should only be operated by trained personnel who have read and understand the manual, our goal was to develop an abrasive saw that makes injury from those risks rarer than with existing technology. All the while preserving productivity. Talk to us to better understand how we can help you protect your team and your company with a SaferCut® by Everett…Proven Everett performance in a more protective package.
LabMaster
Why LabMaster?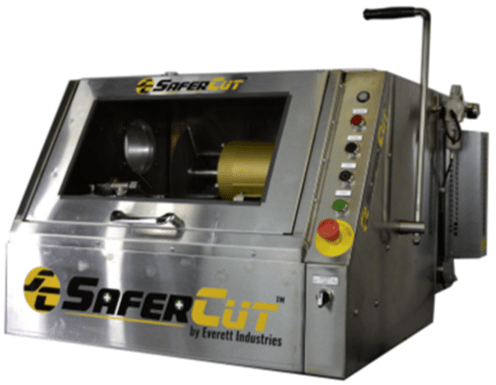 • Our most compact Safercut® saw for your met-lab or other clean space
• 10"/250mm, wet cutting benchtop abrasive saw
• Integrated coolant tank and pump, standard
• 3HP/2.24kw high-torque, direct drive motor, protected by CutSense cutting load feedback
• 3x6in [76x152mm] cutting capacity
• SaferClamp finger-safe work holding, standard
• Compact footprint, fits on 36" benchtop, with restriction
• A simple control panel for easy training and operation
• Lighted enclosure with door featuring wide viewing window
• No need for an extra stand or external coolant tank
• A safe, simple, self contained solution